Three Colombians who fill the country with pride.
Colombia is a paradise in which magic saves what can't be saved. Where fiction intersects reality to give us emotions and pride. Where our chest is inflated to hear that our anthem is the second most beautiful in the world, after the Marseillaise of France. Where it is possible to live the American dream, dressed in tricolor, as these Colombians demonstrate.
Camila Miranda, from Colombia to Thailand
Camila Miranda is a designer. Her mother taught her the love for clothing. Although she began studying International Business, her heart was directed to Fashion Design, a career she studied at La Salle College.
This training gave Miranda a clear and concise concept of fashion that took her first project to Monterrey Fashion Week, in Mexico, and then to be recognized by her peers as a design promise. She worked in a Bogotá fashion brand as a production and  design director, and then founded her own brand: Camila Miranda.
With the help of their parents and sister (an economist and an entrepreneur who is now their production director), the brand has managed to reinvent itself over the years with fundamental pillars such as: recycling, painting and having Colombia as a theme of inspiration .
"My concept has been inspired by recycling; Even  In my store the furniture is reused and I use all leftovers to create new designs. Everything works based on circular economy, "says Miranda.
Thanks to this concept, Miranda has attracted the attention of designers such as Ricardo Pava and Hernán Zajar at the Bogotá Fashion Week (BFW) and in Young Designers contests of the Development Secretariat that led her to represent the country at the Silk Festival in Thailand.
"I remember that the call was one day after the BFW, I was tired and had all the dresses in this facility. However, something inside me said to show up at the contest, so I picked two random dresses and my  portfolio. "
With a place full of designers and models, Miranda presented her concept to the jury, who chose her as one of the three finalists. "Then the wife of the ambassador in Thailand, Astrid Amaya, chose me for the concept of straight silhouettes, which can fit both a 15-year-old girl and a 60-year-old lady; the issue of recycling and the circular economy ".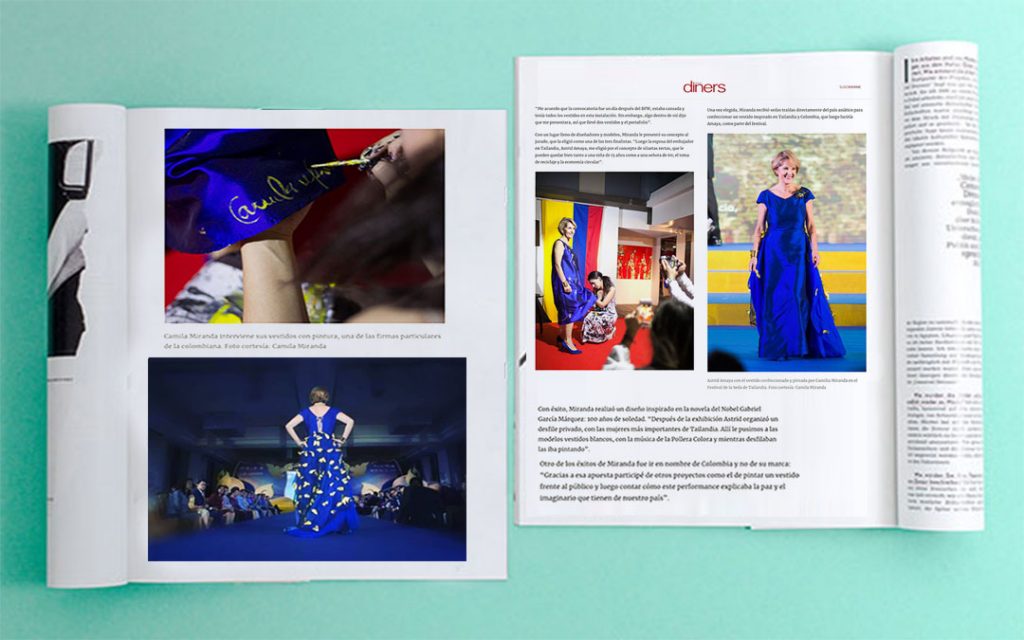 Once chosen, Miranda received silks brought directly from the Asian country to make a dress inspired by Thailand and Colombia, which Amaya would later wear, as part of the festival.
With success, Miranda made a design inspired by the Nobel novel Gabriel García Márquez: 100 years of solitude.
"After the exhibition Astrid organized a private dinner, with the most important women in Thailand. We made a live performance in the catwalk where I live painted the models by the song la Pollera Colora  by the philharmonic of Bogotá.  ".
Another successful moment was when she spoke about peace : "Thanks to the event I participated in other live performances related to peace and politics in Colombia, I spoke about the peace agreement and the importance of dialogue, forgiveness and memory".
Original text in Spanish: https://revistadiners.com.co/moda/57393_tres-colombianos-que-llenan-de-orgullo-al-pais/