Article El Teso magazine

Cartagena

International Fashion
Camila Miranda is from Bogotá and is 30 years old. She is a Fashion Designer graduated from Lasalle College and a  Color Theory certificate at the Fashion Institute of Technology in New York City.
She is an entrepreneur that made her brand seven years ago, and four years back launched her first slow fashion Boutique.
Last year Camila was chosen to represent emerging designers at the Bogotá Fashion Week out of more than 800 participants, months later  she participated at the contest "Young Designer" where she was announced as a  winner by the recognized  Colombian designers, Hernán Zahar and Ricardo Pava.
The award was to Represent Colombia at Thailand's most important royal fashion event "Celebration of Silk".
She had to make a dress made up of  the best Thai Silk for Astrid Amaya, the wife of the Colombian ambassador in Thailand.
Camila presented as well her collection Surreal Capital, and made art performances, talks and conferences about art, fashion and peace.
The embassy of Colombia organized a dinner party in her honour where she presented a special fashion show inspired by Colombian culture and literature.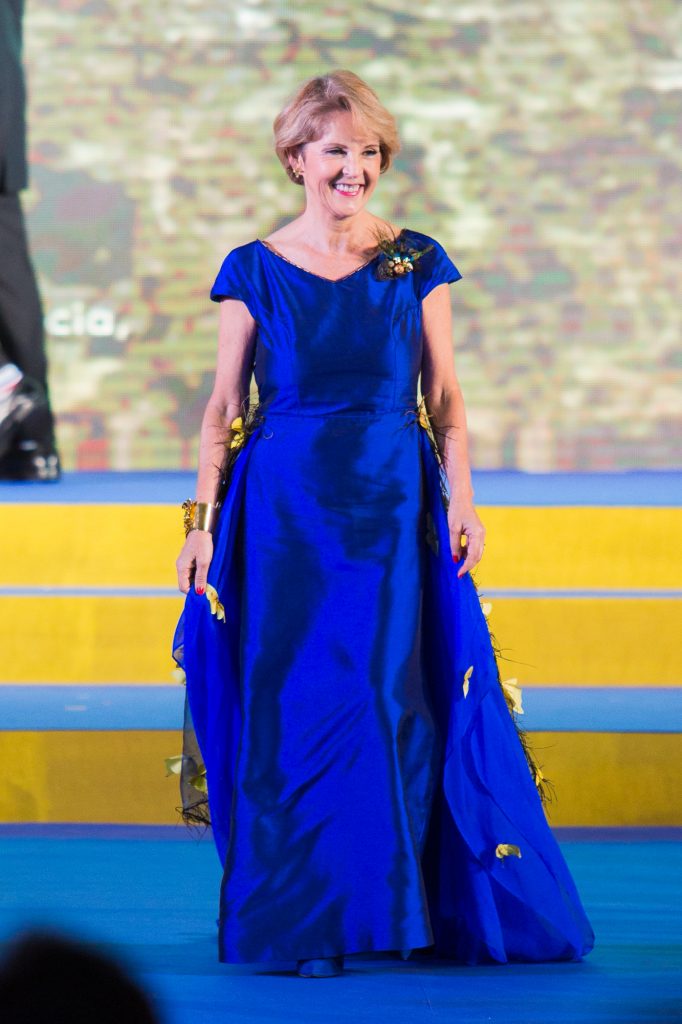 Magical realism teaches us to dream, and gives us a delightful way to perceive reality.
When Gabriel Garcia Marques wrote about the yellow butterflies on his book " One hundred years of solitude " they suddenly became an icon of our simple but poetic ways. The color yellow is the color of sunshine, of hope and happiness, positivity, clarity, energy, optimism, enlightenment, remembrance, intellect, honor, loyalty, and joy.
This garment has an enchanted narrative in the shape of yellow butterflies and flowers; that send a message of peace, love and hope from Colombia to Thailand.
Read original article in Spanish